Amya Clarke was first of the two Track and Field Athletes of TEAM SKN to taste action at the Pan-American Junior Games, Cali, Columbia.
She participated in the third of three Heats from which the top two athletes from each Heat and the next best two times will qualify for tomorrow's final showdown in the Female 100 meters.
Amya led her Heat from start to finish in a fairly confident demonstration of execution which suggested that she may have, indeed, benefited from the exposure she received by virtue of her participation in the Tokyo Olympics earlier this year.
I am sure that Amya will be the first to admit that she will not be raking anything for granted as she strive for even closer perfection by tomorrow.
She will certainly need her A Game to un-nerve Cuban and Brazilian athletes who also prove that they could be a force to reckon with.
Whilst Amya seemed not to be unduly pushed to top her Heat and put down a 11:56 sec.- some  04 sec off her best time going into the event, it appeared that she is capable of stepping up another gear.
See attached below, the results of each Heat and the Table indicating the entire list/ranking of all the athletes.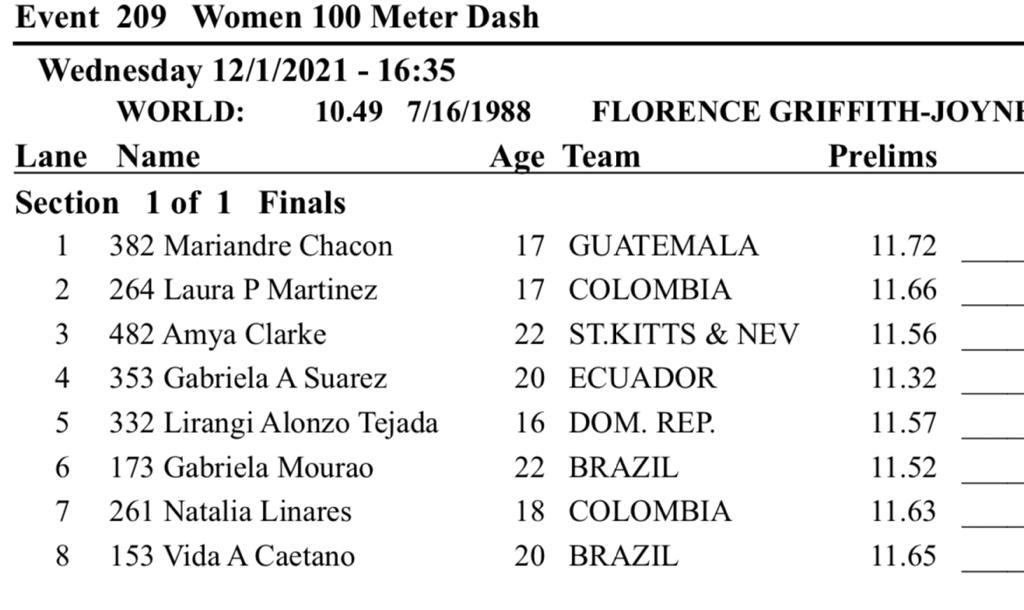 You should note that only the top eight (8) will quality for tomorrow's finals.
Congratulations to Amya thus far. She has laid down a marker to inspire  her team-mate Tah'j Liburd who runs in the second  of two semifinals at about 5:15 pm SKN Time) tomorrow in the 400 Meters.