BASSETERRE (SKNOC): July 21st, 2021, will be remembered as a historic day among the member nations of the Caribbean Association of National Olympic Committees (CANOC) as one of their own Nicole Hoevertsz of Aruba was elected to the Vice Presidency of the Executive Committee of the International Olympic Committee (IOC).
St. Kitts Nevis Olympic Committee President, Alphonso Bridgewater, marked the occasion by extended congratulations his long-time colleague and newly elected IOC Vice President. Bridgewater expressed his personal delight in seeing Hoevertsz's rise to one of the highest positions in international sports and noted that this latest achieving was a testament to the high quality of leadership Hoevertsz's exhibits wherever she goes.
"I could not restrain myself from personally expressing congratulations and aligning myself with the sentiments outlined in the Caribbean Association of National Olympic Committees…," said Bridgewater.
Adding that this achievement was, "A milestone accomplished with dignity and humility. An accomplishment which will surely inspire the woman of our sub-region, region and continent."
In celebration of the newly elected IOC Vice President, CANOC released a statement of support to Hoevertsz saying in part,
"All of CANOC is delighted with Nicole's latest achievement, not only as a Caribbean personality, but more importantly, as a Caribbean woman in sport."
Other sporting officials throughout the region have also extended their congratulations to Hoevertsz. Including fellow IOC member and former President of the Dominican Republic National Olympic Committee Luis Mejía Oviedo who tweeted from his official account @luisinmejia:
Orgulloso estamos de la elección de Nicole Hoevertsz como Vice Presidenta Comite Olímpico Internacional. Un peldaño más a su fructífera carrera deportiva. Enhorabuena querida amiga @nicolehoevertsz. pic.twitter.com/dxaad9r0vq

— Luis Mejía Oviedo (@luisinmejia) July 21, 2021
"We are proud of the election of Nicole Hoevertsz as Vice President of the International Olympic Committee. One more step to her fruitful sports career. Congratulations dear friend @nicolehoevertsz."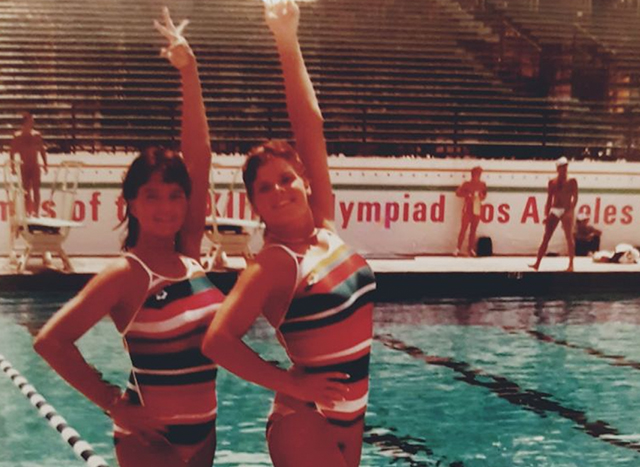 Hoevertsz, an accomplished synchronized swimmer, represented her county of Aruba as one half of a duet at the 1984 Olympics in Los Angeles, California, before moving on to coaching both solo and duet entries for Aruba during the 1988 Olympic Games in Seoul, Korea. She has been an IOC executive member since 2017.
Image Credit: Wikicommons, PanamSport