Basseterre, St. Kitts: April 4, 2018: – The St. Kitts and Nevis Olympic Committee (SKNOC) is proud to announce that the full roster of Team SKN athletes have arrived in Australia for the 21st Gold Coast Commonwealth Games and have taken part in the official welcome and flag raising ceremony at the Athletes Village.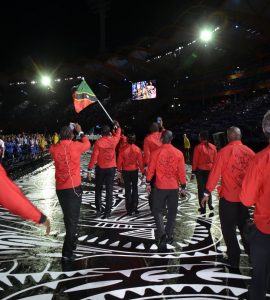 SKN Beach Volleyball Player, St. Clair Hodge was selected to carry the National Flag of the Federation of St. Kitts and Nevis at Wednesday night's glittering opening ceremony which was watched by a global audience of close to 1.5 billion viewers.
Team SKN will be competing in three sporting disciplines which include Table Tennis, Track & Field and, for the first time ever, the game of Beach Volleyball. Among the line-up, beach volleyball stars St. Clair Hodge and Shawn Seabrookes will make history on Coolangatta Beachfront as the first players to represent the Federation at competition level playing against Trinidad and Tobago, Fiji and host country, Australia in the preliminary rounds.
The full roster of eight athletes, the largest team to represent the nation in an overseas sporting event, will comprise of six men and two women who will compete in the three disciplines as follows:
TRACK AND FIELD (4 athletes)
Carrara Stadium 8-14 April 2018
Antoine Adams – 100m
Jason Rogers – 100m
Warren Hazel – 400m
Shenel Crooke – 100m
Lonzo Wilkinson (Coach)
TABLE TENNIS (2 athletes)
Oxenford Studios 5 – 15 April 2018
Angelisa Freeman – Singles and Mixed Doubles
Shakquan Hodge – Singles and Mixed Doubles
Calvin Lake (Coach)
BEACH VOLLEYBALL (2 athletes)
Coolangatta Beachfront 6–12 April 2018
St. Clair Hodge
Shawn Seabrookes
Joao Carlos Campos (Coach)
President of the St. Kitts and Nevis Olympic Committee/Commonwealth Games Association (SKNOC/CGA), Alphonso Bridgewater, said, "We are hugely excited as a nation to make our debut in Beach Volleyball for these 21st Commonwealth Games as the Sport itself makes its Commonwealth Games debut in Australia. The athletes who have qualified in Beach Volleyball, Track & Field and Table Tennis are to be applauded for their hard work and dedication."
Bridgewater continued, "We believe in Team SKN's ability to make the Federation proud as well as bring back amazing memories to inspire the athletes of tomorrow and wish them God speed on their Commonwealth journey."
The Management and support team that will accompany the athletes have been named as Mr. Lester Hanley, who will serve as Chef de Mission and leader of the delegation and Mr Leroy Greene, General Manager.
Additional members of the Team include Dr. David Steven as Team Medical Official/Chiropractor and Dennis Knight as Team Attache.